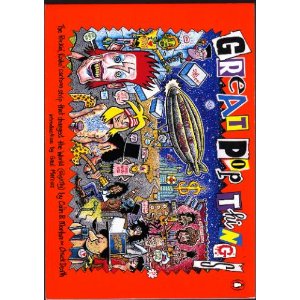 GREAT POP THINGS: THE REAL HISTORY OF ROCK AND ROLL FROM ELVIS TO OASIS
comic strips by Colin B. Morton & Chuck Death
——————————————————————
Chuck Death is the nom de guerre of Jon Langford. Colin B. Morton is a writer, musician, and irrepressible satirist who lives in Newport, Wales, where he and Langford grew up.
---
Amazon.com lists Great Pop Thing
---
Neil Strauss's review of Great Pop Things, in his column "The Pop Life," New York Times, Thursday Dec. 3rd
THE POP LIFE
Cartoons Dare to Mock Icons
By NEIL STRAUSS
LOS ANGELES — The discipline of pop-music cartoon strips is a small and sad one, but one of the best has always been "Great Pop Things." Running for 10 years in alternative weekly newspapers, this pen-and-ink history of rock-and-roll has informed readers that Keith Richards of the Rolling Stones ate so much candy that "his entire body rotted away from the teeth downwards," Madonna "tried to change organized religion" by "wearing her underwear outside her clothes," Bob Dylan's music opened the way for new singer-songwriters who "were usually discovered feeling sorry for themselves on the stairs at parties" and Bono of U2 "retired from music to make LPs."
For those who don't live in the cities where the comic strip is regularly published (Los Angeles and Chicago, mainly), this smart, skewed, pun-filled and just plain inaccurate history of rock-and-roll has always been out of reach. This month, its best strips have been anthologized for the first time in the United States as a book, "Great Pop Things: The Real History of Rock-and-Roll From Elvis to Oasis" by Verse Chorus Press. (In 1992, Penguin in England released a hard-to-find anthology that the creators weren't happy with, then retained the rights to the comics until last year.)
Steve Connell, who runs Verse Chorus Press and is a publisher of the music magazine "Puncture," said he was attracted to the comic strip by "the attitude of complete irreverence to things that are normally approached with great reverence — phenomena like U2 especially, which begs to be made fun of."
The strip is drawn by Jon Langford (of the 20-year-old rock group the Mekons) under the pseudonym Chuck Death. A friend from his hometown of Newport, Wales, Colin B. Morton, writes the text.
"Some people have a problem with the comic strip," Langford said. "Morrissey picked up a copy and threw it across the room and said his chin was too big. He was quite angry. But others, especially less popular bands, have used the comic as a T-shirt and view being included in it as an honor."
The criteria for being included in "Great Pop Things" are usually arrogance, a lack of self-awareness and being a pop-culture phenomenon, which has made for lots of comics about Morrissey, Madonna and U2.
Unlike Morrissey, U2 has never responded to the barbed, mocking insults the comic has hurled at them. "That's one of the things that gall me," Langford said. "We relentlessly pillory them for being one of the most obnoxious and pompous of rock bands. But they've never gotten back to us. I'm sure they could break our legs if they wanted to."
The strip originally ran in Record Mirror in England in 1988 and, according to Langford, his inspiration has never ebbed. "Just when we think we've run out of ideas, David Bowie will say he's going to relaunch 'Ziggy Stardust,"' he said. "Or the Sex Pistols will reform and we'll go, 'Wow, we can get five strips out of that; that's like 500 bucks.' There's no bounds to the ridiculousness of pop people."
But does Langford feel hypocritical in making fun of all these popular and semipopular musicians when he is one himself? "They've got more money than me, but they're not as good-looking or talented, so I should ridicule them," he explained, not without sarcasm. "So it was partially inspired out of greed and hatred."
Verse Chorus Press, PO Box 14806, Portland OR 97293
(503) 777-4611 (phone) + (503) 777-4627 (fax)
---
Other reviews:
The Independent on Sunday, UK
Great Pop Things is the definitive guide to the real behind-the-scenes workings of the entire rock n roll industry.
Q Magazine
Even in fish-in-a-barrel territory like the wonderful world of rock, this is pomposity-puncturing at its finest and funniest.
Book Description
The comic strips of Colin B. Morton and Chuck Death deliver an irreverent, heartfelt, and devastatingly funny history of rock and roll. Like Monty Python at its best, their version is surreal and ridiculousyet somehow everything in it rings true.
According to Morton and Death, the bass player in Led Zeppelin was Jean-Paul Sartre. And despite having been able to think up brilliant titles for their first three albums, Led Zeppelin were stuck for what to call the fourth oneso they put a load of prunes on the front.
In strip after strip, Morton & Death pinpoint the absurdities and oddities of rock history. In the process, they often come closer to its truth than conventional accounts do, as well as being far more entertaining. As for the drawings, their caricatures of rock stars from Mick Jagger to Frank Zappa, Johnny Rotten to Courtney Love, are in themselves worth the price of admission.
---
From the magazine "Entertainment Weekly" (they gave it an "A")
Imagine a deeply knowledgeable, highly insightful rock history penned by the staff of MAD magazine.  That's the idea behind the syndicated comic strip Great Pop Things, a hilariously irreverent send-up of many of pop music's best-loved figures, from John Lennon ("He tried to make world peace by taking all his clothes off") to Madonna ("She tried to change organized religion with her underwear outside her clothes").  Writer Morton and illustrator Death (actually the Mekons' Jon Langford) are often cruel, but there's a sharp wit behind their mockery, and the finely observed detail of their barbs reveals the authors as passionate fans of their subject matter.  Sure, it's just a comic strip, but Great Pop Things is music criticism at its confrontational best.
---
Chicago Sun-Times, January 21, 1999, THURSDAY, Sports Final Edition
BY: Jim DeRogatis
'Great Pop Things: The Real History of Rock and Roll from Elvis to Oasis'
By Colin B. Morton and Chuck Death
Verse Chorus Press; $ 16.95
Already the hardest working man in rock 'n' roll, Leeds-to-Chicago transplant Jon Langford has added another line to his crowded resume: author.
The newly published Great Pop Things: The Real History of Rock and Roll from Elvis to Oasis collects a decade's worth of the gonzo comic strips that Langford (under the pseudonym of Chuck Death) draws with his pal, Welsh critic and rock writer Colin B. Morton.
Published locally in the weekly New City (as well as in the L.A. Weekly and England's New Musical Express), "Great Pop Things" offers a Dadaist view of rock history, with a consistently surreal and irreverent take on heroic bands setting out to change the world. "It's the sound of people being humiliated by their own desires, their own dreams, their own demands," rock critic Greil Marcus writes in his introduction (a somber essay that's so overly serious, it's ripe for satirization itself).
In the Langford; Morton version of rock history, instead of shouting "Judas" when Bob Dylan plugs in, a heckler asks if he knows any Judas Priest songs. Madonna attempts to change organized religion by wearing her underwear over her clothes.
"Sonic Youth have been going for 11 years, so they can hardly be called 'youths' in the literal sense," begins an entry titled "The Sonic Youth Story." In that comic strip, the father of bassist Kim Gordon — Batman's Commissioner Gordon — asks his daughter why she couldn't have gotten a real job like Caped Crusader.
No one is spared from Langford's pen or Morton's prose. On Page 146, there's a goofy look at how an English punk band called the Mekons was drawn to Chicago by a mysterious benefactor named Sophie Bourbon. The Mekons are of course one of Langford's many musical side projects, which also include the Waco Brothers, the Pine Valley Cosmonauts and his solo effort, Skull Orchard.
---
Rolling Stone, Feb 4.
"The Illustrated History of Rock: A Comic-Book Collection Brilliantly Depicts the Story of Rock & Roll"
According to the new "Great Pop Things: The Real History of Rock and Roll from Elvis to Oasis," David Jones, the future David Bowie, tried to join the Monkees but was turned down because they already had an English guy named Dave Jones and didn't need another. The Sex Pistols once opened for the Incredible String Band. And the answer to the Bob Dylan lyric 'How many roads must a man walk down before they call him a man?' is 'eight.'
None of the above is true. But "Great Rock Things" isn't really a history book. It is an anthology of comic strips by that name, created by Welsh-born wiseguys Chuck Death and Colin B. Morton. Packing each frame with rude caricatures, textual puns and mischievous apocrypha, Death and Morton recount rock's crucial episodes and life stories, skewering superstars and demolishing hagiography along the way. When Dylan goes electric, a heckler doesn't shout, 'Judas!' He yells 'Boo! Do you know any Judas Priest?' U2 make a concert film about 'a hugely famous Irish group going to America and inventing all forms of American music simultaneously.'
"There is so much mythology and drivel surrounding rock & roll," says Death, who is really singer-guitarist Jon Langford of the Mekons. "The idea was that, we could add to that. We can have our own myths."
Langford and Morton (real name: Carlton B. Morgan) met in the early eighties on a bus en route to the small Welsh town of Croesyceiliog; Morton lived across the street from Langford's grandmother. But it wasn't until 1988 that they launched "Great Pop Things," first published in England's now-defunct "Record Mirror." After a long train ride with another friend, Morton says, "I sent Jon a postcard with all this stuff we made up about David Bowie to pass the time. He got hold of me and said, "We're on to something here."
Celebrity response has been mixed. Morrissey was outraged by the huge chin that Langford gave him in an early cartoon. (Langford made the chin even larger in later strips.) But when Morton interviewed Polly Jean Harvey for a magazine article, he confessed to his part in "Great Pop Things"' devilish PJ Harvey parody ('She tried to change the world in her fake-leopard-fur fifty-foot invisible-bunny costume'). Her response was a shriek of delight: "Oh! I've got it up on my fridge."
"Great Pop Things" is published by and available through Verse Chorus Press, PO Box 14806, Portland, OR 97293; vcpress@teleport.com. (David Fricke)