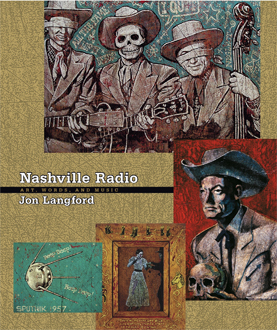 Beyond his work as a musician (Mekons, Waco Brothers, and solo), Jon Langford has attracted ever-growing attention as a visual artist in recent years. Nashville Radio is the first collection of his acclaimed art. It reproduces 215 paintings and etchings, along with song lyrics and autobiographical writings. The book also comes with an exclusive CD of Langford performing 18 of the printed songs.
Langford's "song-paintings" fuse publicity-shot portraiture with imagery derived from folk art, Dutch still life, classic Western wear, and the cold, cold war—all instilled with sharp, sardonic wit and a Constructivist sense of the power of language. He applies his completely distinctive style to the depiction of American music giants such as Bob Wills, Hank Williams, and Johnny Cash, and also to more ghostly, marginalized figures — blindfolded cowboys, astronauts, and dancers — jerked around by the forces of success and exploitation, fame and neglect.
It's a style supple enough not only to express the artist's deep regard for his musical heroes, but also for him to comment on the death-dealing tendencies in the culture of his adopted homeland, from the killing off of authentic popular music by homogenized, mass-marketed drivel to the embrace of capital punishment as a response to social ills. The woman twirled around by a skull-headed figure in the series Dancing with Death in a Dollar Dress stands not just for country music, but for America itself.
Langford's work offers an alternative perspective, recalling "a time when great visionaries and pioneers thrived at the heart of the mainstream — and the lid wasn't on so tight."
CD track listing:
The Death of Country Music
Slightly South of The Border
Oh No, Hank!
Dollar Dress
Tubby Brothers
Now We Have the Bomb
Hell's Roof
The Return of the Golden Guitarist
Pill Sailor
Hank Signs His Contract
Insignificance
It's Not Enough
Ugly Band
Blink of an Eye
Tom Jones Levitation
I Picked Up the Pieces
Nashville Radio
The Country Is Young
available from Verse Chorus Press mailorder